Quick & Easy Therapist Specialty Chart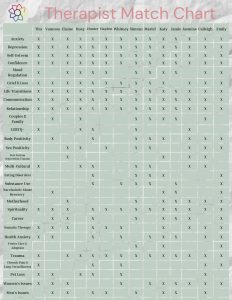 (Click Here to Enlarge the Chart)
Browsed our therapist profiles and still need more help choosing a therapist?
Contact our Client Care Team for assistance.
Meet the Bloom Therapy team
Our Therapists
We are a group of dedicated and inspired licensed providers, always increasing our training in a variety of therapeutic modalities to best suit your individual needs, strengths, and personalities. All Bloom Therapy LPC-Associates are supervised by Katy David, LPC-Supervisor, and have been specifically chosen for their interest and dedication towards mastering experiential, holistic, and somatic therapies. These are the most efficient, cutting-edge, and effective therapeutic modalities currently available. Within only 1-3 sessions you are likely to feel the changes shifting inside of you; in just a few months your life is likely to be substantially different. If you have tried therapy in the past and felt you were merely treading water or enjoying a place to vent, you were likely doing "talk therapy". Some people find a lot of value in that, but most need to work more deeply and holistically to create lasting changes from the inside out. If you want therapy that really works and are highly motivated to participate in your own growth, our practice may be just what you are searching for. We recommend you start by referencing our "Quick & Easy Therapist Specialty Chart", and then visit the therapist profile pages that specialize in areas you are wanting help with. If any of the profiles resonate with you and sound like a possible fit, contact them directly for a complementary 15-minute phone consultation. Feel free and call more than one therapist. Trust your inner guidance, and feel free to shop around a bit before deciding if that helps you feel more confident about your selection. Our therapists will never pressure you to schedule or be offended if you go with another clinician. It is most important that you find a therapist that is a great match for you. Of course, if you "feel" the match resonating on the phone, then definitely go for it!