Would you like to be matched with an available Bloom Therapist?
Simply fill out our
and a Bloom Team Member will respond within 1-2 business days. 
You may also contact our Client Care Team at: 
or
We do our best to respond within 24 business hours
Contact & Location
All therapists offer tele-therapy state-wide in Texas. Most are available for in-person sessions in Austin, Texas. See individual therapist profile pages to confirm up-to-date location offerings. You may either contact your desired therapist directly to schedule a consultation (contact information is below and on their profile pages), or you may contact our Client Care Team for personalized assistance at
[email protected]
or 512.710.7645 (call or text).
Office Locations
Central Austin (Rosedale/Medical Parkway neighborhood)
1205 & 1206 W. 43rd St.
Austin, TX 78756
Please note that we have expanded into 2 buildings, which are located across the street from each other (#1205 & #1206 on W. 43rd Street). Both of our buildings are Gray. Please ensure you are in the correct building/ waiting room for your appointments. Your appointment reminders will confirm which building your appointment is in, and your therapist can also let you know if there is a change in building location from week to week (unlikely if you schedule at the same time each week).
Teletherapy (Anywhere in Texas)
Quiet, private room of your choice.
Good internet connection required.
Convenient with zero travel time.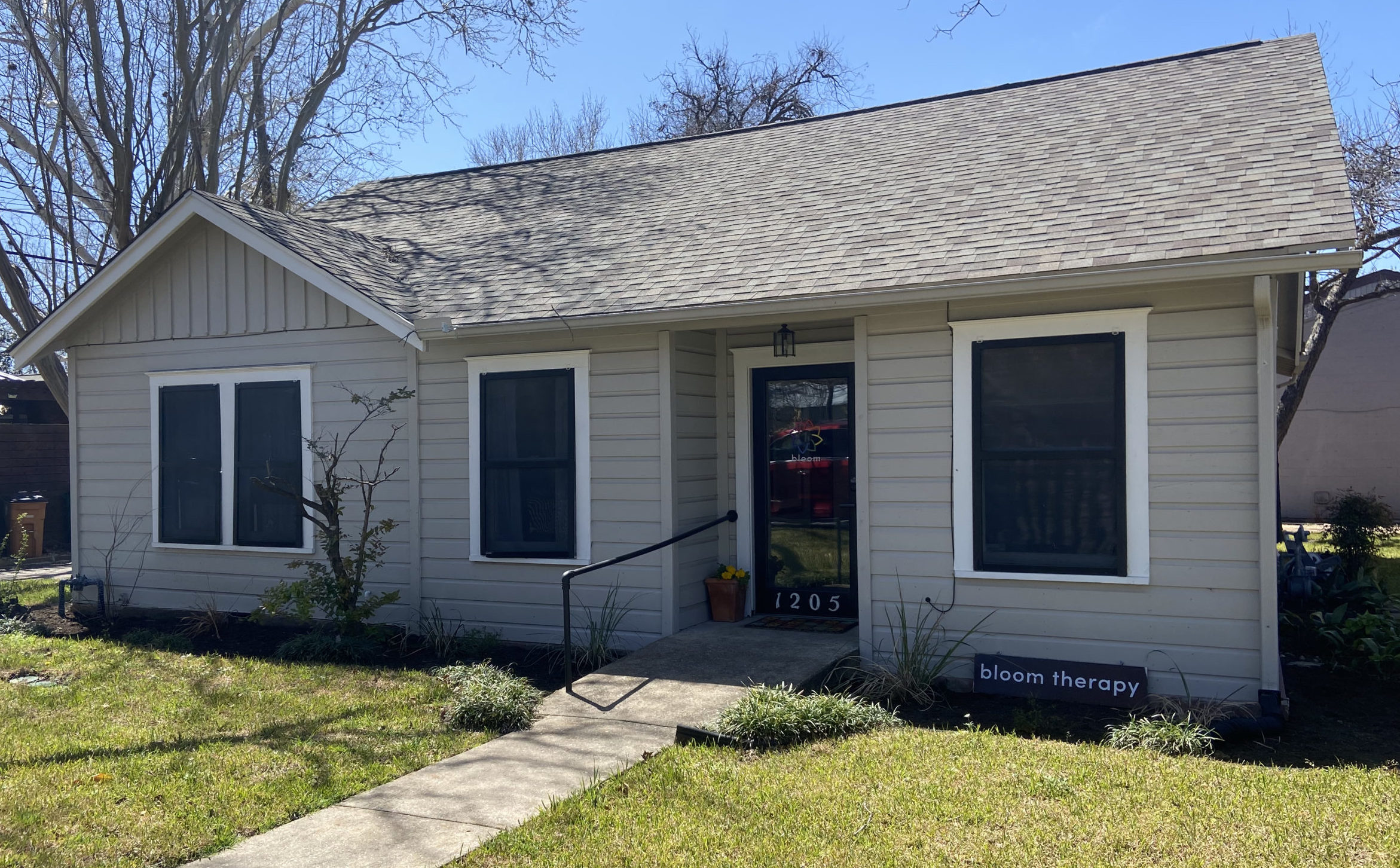 Current Appointment Hours
Please note that hours are Subject to Individual Therapist Availability, and this page may not always be kept perfectly up to date. Check with our admin team or your desired therapist for exact open time slots.
Mon: 8am – 8:30pm
Tue: 8am – 8:30pm
Wed: 8am – 8:30pm
Thu: 8am – 8:30pm
Fri: 8am – 6:30pm
Sat: 9am – 5pm 
Sun: not currently available
Do you know which Bloom Therapist you'd like to connect with?
For Questions, Free Consultations, and Scheduling Appointments, you may call, text, or email any therapist directly.
We offer complementary 10-15 minute phone consultations to ensure we are a good match for your goals and needs. All communications are confidential. We do our best to return calls, texts and emails within 48 business hours. Occasional situations may make this difficult to do.
Please note that we do NOT provide emergency/crisis counseling. If this is a mental health emergency, please call 911, 988 (national mental health hotline) or 512-472-4357 (local crisis hotline).